DLC của game Trainz™ Simulator 12
Phát hành: 24 Jan, 2014
Relive the halcyon years of steam hauled freight services in the US with this stunningly modeled Trainz Simulator addon.This DLC pack includes the following: New York, Chicago & St. Louis / 'Nickel Plate Road' Class S-2 2-8-4 locomotive in early and late conditionPere Marquette Class N-1...
Phát hành: 4 Dec, 2013
The Shao Shan 4 (SS4 improved) electric locomotive is one of the most powerful DC electric locomotives in China. Manufacturing began in the mid 1980's and the locomotives are widely used throughout most of China's electrified railways to this day.
Phát hành: 6 May, 2013
British Rail devised the Class 14 locomotives to replace the seemingly indispensable ex-GWR Pannier Tanks which busily performed shunting duties, yard transfers and short haul freight services on Western Region tracks.
Phát hành: 6 May, 2013
The Coronation Scot is a powerful steam passenger locomotive built for British railways in the 1930's. The Coronation Scot celebrates the halcyon days of LMS passenger service by recreating the sights and sounds of this historic train, and is now available as part of your Trainz collection.
Phát hành: 29 Nov, 2012
The PRR T1 'A Fleet of Modernism' DLC Pack recreates the striking image of these shark nosed behemoths in their days of speeding the 'Fleet of Modernism' cars to their destination on trains such as 'The Broadway Limited' and 'The General'.
Phát hành: 22 Jun, 2011
The feature packed Duchess set is a must have for anyone with a taste for the romance of rail. Conceived by the office of Sir William A. Stanier FRS, the Duchess is a classic example of British engineering at its finest.
Phát hành: 6 Aug, 2010
The Blue Comet add-on pack recreates the excitement and splendor of this remarkable train. Stunningly detailed and making use of up-to-date smoke, sound, physics and script features, the Blue Comet promises to be a satisfying addition to your Trainz collection.
Phát hành: 12 Aug, 2014
CONTZ Pack - Standard Edition includes: 20/40ft Containers, Container Yard and X2K Double-Stack Wagons
Phát hành: 12 Aug, 2014
CONTZ Pack - Basic Edition includes: 20/40ft Containers and X2K Double-Stack Wagons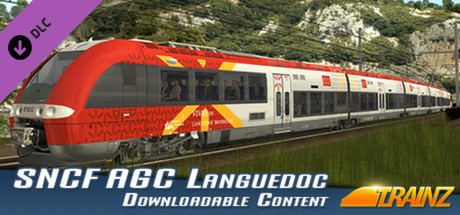 Phát hành: 19 Aug, 2014
Add the AGC 'Languedoc' to your Trainz collection