DLC của game Tropico 5
Phát hành: 23 Jul, 2015
Every movie needs a set, and for this epic production, the whole island will be prepared for a blockbusting World War II movie. In 'T-Day', you must re-enact the defending of Tropico from its biggest-ever invasion and produce the greatest movie that the world has ever seen!
Phát hành: 25 Jun, 2015
Knowledge is power. No one knows this better than El Presidente, who leaves no stone unturned in his quest to position Tropico as a leader in the world of technological progress. And, as any media or educational establishment on Tropico will tell you, no one has more knowledge than El Presidente!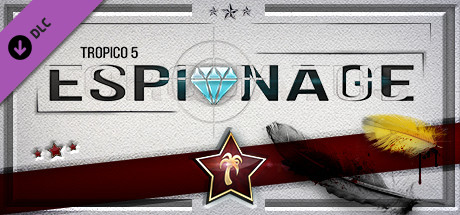 Phát hành: 28 May, 2015
Tropico 5 expansion "Espionage", only you, as El Presidente, can keep Tropico safe from enemy spies and foreign powers who might try to steal your island's best kept secrets for their own gain.
Phát hành: 16 Apr, 2015
On the beautiful island of Tropico, it never rains; El Presidente insists on it. So when the clouds roll in and the rain starts to fall you know something is on the way. Rumours are that a group of citizens have united to form a mysterious cult and have placed a curse over Tropico.
Phát hành: 26 Mar, 2015
El Presidente is getting tired of this ruthless dictator image, so he's decided it is time to become the most famous supervillain in the whole Caribbean.
Phát hành: 12 Feb, 2015
In his endless struggle to please/rule all Tropicans alike, El Presidente decides it's time to go green!
Phát hành: 8 Jan, 2015
Come with El Presidente on a journey through time and space in the new 'Surf's Up!' DLC for Tropico 5. In the not-too-distant future, Earth is under threat of alien incursion. The only hope for Tropico lies with the wise dolphins of the Pacific Ocean, who hold the power to veto this decision...
Phát hành: 17 Dec, 2014
Harness the vast potential of the sea by constructing waterborne structures around your island. Build brand new off-shore alternatives to defence, food, energy, entertainment and even housing!
Phát hành: 6 Nov, 2014
Construct a chain of Fast Food Restaurants all across the island.
Phát hành: 16 Oct, 2014
In this latest episode of Tropico 5, history is repeating itself while El Presidente prepares for all-out invasion and large-scale warfare! Build the majestic Defense HQ to instill fear in your enemies!
Phát hành: 25 Sep, 2014
Is this madness? No, this is Tropico! Find new ways of disposing unwanted opposition to your regime by installing the asylum, including straight jackets, isolation cells, electroconvulsive therapy and more!
Phát hành: 24 Jul, 2014
Create and promote an artisan cheese brand by introducing a new production chain with the Creamery: a new building that enables you to make the most of Tropico's local goats and llamas.