DLC của game Assassin's Creed® III
Phát hành: 23 Apr, 2013
Ratonhnhaké:ton's journey concludes in the third and final episode: The Redemption. Arriving in New York, Ratonhnhaké:ton will call upon all of the abilities tied to his native heritage in order to break into the monarch fortress and put an end to the tyranny of King Washington. Live history...
Phát hành: 19 Mar, 2013
The Betrayal is the 2nd episode in the Tyranny of King Washington, in which Washington goes mad with power and rules as tyrannical King. Connor awakes having never become an Assassin and accepts a new mission to fight for freedom.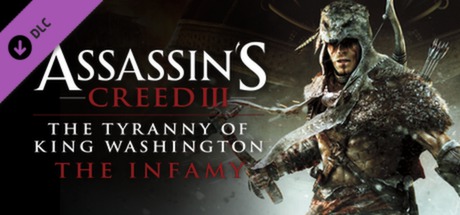 Phát hành: 19 Feb, 2013
In the first episode of The Tyranny of King Washington, the American Revolution is over but the true battle is just beginning. In The Infamy, George Washington, blinded by a thirst for unlimited power, has declared himself king.
Phát hành: 11 Dec, 2012
The Hidden Secrets Pack for Assassin's Creed® III adds three extra missions for an additional hour of gameplay, taking you from the Lost Mayan Ruins to the high seas. Every success is rewarded with an in-game weapon!
Phát hành: 15 Jan, 2013
The Battle Hardened Pack extends the Assassin's Creed® III multiplayer experience with three new playable characters and maps, plus awesome bonus items! Become the influential Governor, the resilient Highlander, or the fearsome Coyote Man.